Gyms and fitness centers are in the business of helping people lead healthier lifestyles. This means they have a responsibility to provide not only the most advanced machines and facilities but also the cleanest environment possible. Knowing how to sanitize gym equipment is critical for the owners and operators of these businesses because of the potential for infection.
When sweat is left behind on benches, seats and other parts of exercise machines, it helps create an ideal breeding ground for fungi, bacteria and viruses. Considering how many people use these machines throughout the course of a typical day, the risk of outbreaks is significant. That's why understanding how to clean workout equipment is one of the most important responsibilities of gym operators.
In addition to addressing concerns about public health, understanding how to clean gym equipment can be good for business. A proper cleaning regimen prevents the unpleasant odors and grungy appearance of locker rooms and exercise areas that can discourage people from spending their time there. Given how critical an effective sanitation protocol is, it's no wonder that many fitness centers choose to pressure wash their gym equipment. Continue reading to learn more about how to clean exercise equipment and how a pressure washing unit from SIMPSON can help.
Sanitize Throughout the Day
One of the most important ways to keep machines free from germs and bacteria is requiring patrons to wipe them down after each use. This applies to free weights as well as exercise bikes and treadmills. Even with this policy in place, however, make sure to have custodial staff circulate throughout the day with disposable wipes to clean high-touch items such as door handles, bike seats and touch screens. Crews should clean locker rooms and restroom areas multiple times per day, working from the highest surfaces down and using the appropriate disinfectants.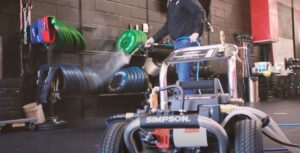 Creating a Better Clean
The new SM1200 from SIMPSON offers gym owners and operators the ideal solution for keeping up with their duties. The professional-grade misting nozzle sprays a uniform mist that is perfect for sterilizing large areas and getting into hard-to-reach places on exercise machines. The dual-action metering valve makes it easy to switch between pressure washing and misting to handle virtually any task without delay.
The SM1200 delivers exceptional performance thanks to its self-priming supply pump. The high-quality hose that comes standard is built to handle high pressures as well as a wide variety of chemicals for cleaning and sanitation. The unit's compact and lightweight construction means it's easy to move around a facility of any size, making short work of a regular cleanup routine. With these features and more, the SM1200 is a great addition to any gym's essential equipment.
If you're ready to learn more about how this unit can help you protect patrons and staff from illness, get in touch with us today. Our knowledgeable representatives are ready and willing to answer questions about this or any of our other products.