When it comes to summer, grilling out on the patio is a must-do! We'll show you how to use your SIMPSON pressure washer to do away with that winter grime.
Step 1: Disconnect your power source
Do not forget to disconnect your propane tank, gas and your electrical. Make sure all connections and hoses are tucked away and protected to avoid damage. While you are getting ready to pressure wash your grill, make sure to remove the grates and clean them separately.
Step 2: Degreasing Detergent
Make sure to use pressure washer degreasing detergent from your local hardware store in the pressure washing section. Once you have applied the degreasing detergent, wait 3-5 minutes for it to sink in and cut through the grease.
Step 3: Begin Washing
When you begin the pressure washing work from the bottom up and be careful of any heating elements in or around the grill. Make sure to use your soap nozzle when using the degreasing detergent. We have multiple other nozzles at different degrees, but using a turbo nozzle can help cut the grease easier.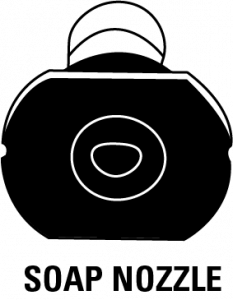 Step 4: Rinse
Now that you have cleaned your grill do one final rinse. Then dry it with a towel and let the rest air dry!