AAA C42 Triplex Pump Kit 90039
4000 PSI at 3.5 GPM Industrial Triplex Plunger Pump Kit
Online Model No: 90039 (Part No: 90039)
In-Store Model No: 90039 (Part No: 90039)
The AAA® PROFESSIONAL triplex pump rated up to 4000 PSI @ 3.5 GPM is highly efficient to minimize engine load while delivering top performance. AAA pumps carry a 5-year limited commercial warranty. The 90039 contains dual oversized ball bearings for better wear, friction resistance and longer-lasting performance in the toughest cleaning environments. Equipped with the Easy-Start feature and is rated up to 4000 PSI @ 3.5 GPM.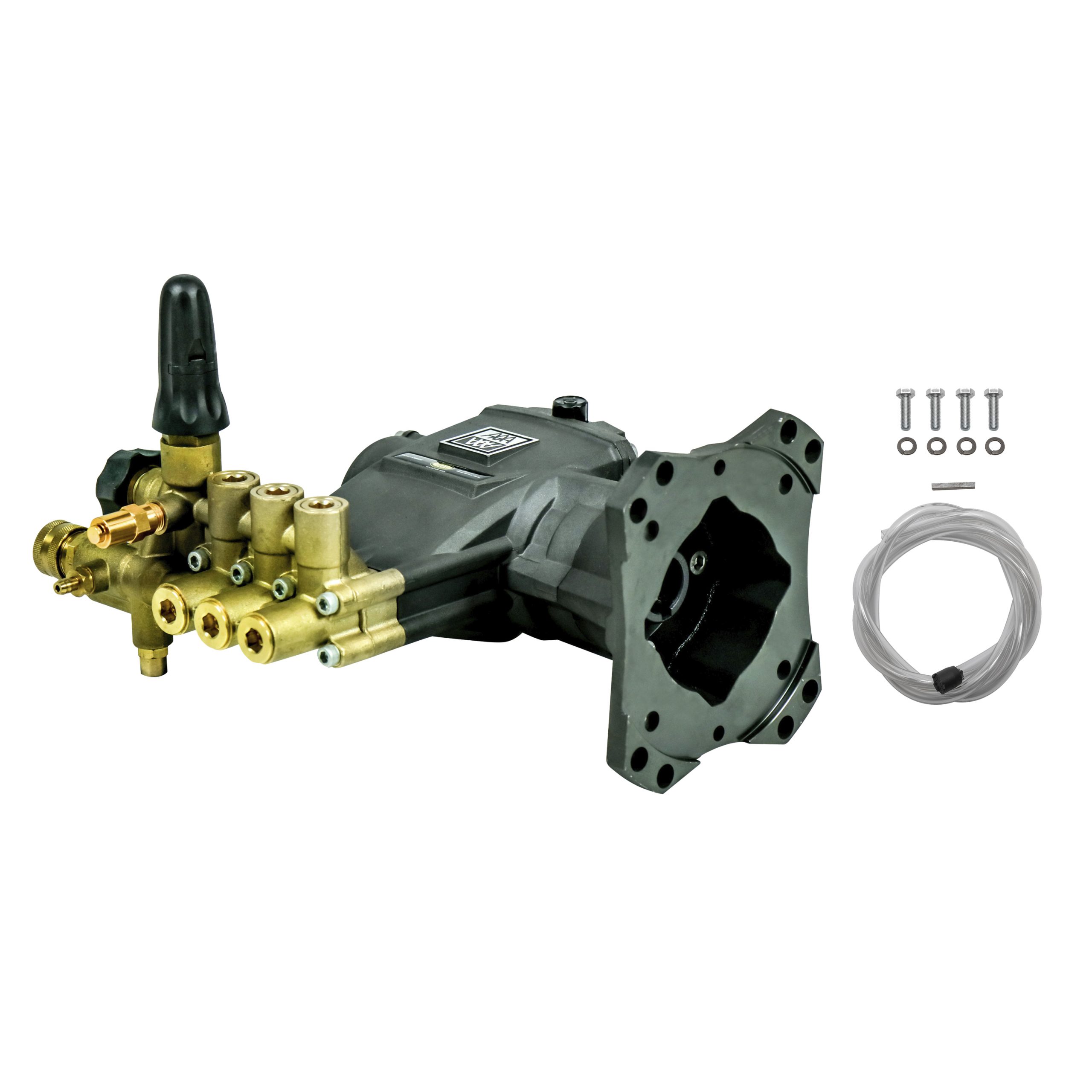 Features
Extend the Life of Your Pressure Washer: Save money by replacing your pump instead of buying a whole new power washer. This easy-to-install kit is great for power washers that can support 4000 PSI at 3.5 GPM to wash walls, fences, sidewalks, vehicles, and more.
Easy Installation: This replacement pump features a garden hose inlet and QC quick connect high pressure hose outlet. The SAE standard bolt pattern that fits most gas-powered pressure washers. Each kit includes a siphon tube with filter, mounting bolts, shaft key, and instruction booklet to get your machine back in action as quickly as possible.
Adjustable Power: This pump includes PowerBoost® Technology that delivers higher pressure at the nozzle for a more efficient cleaning experience. There is also a hand turn knob that lets you reduce power at your convenience for tasks that require lower pressure.
Know When to Change Your Oil: The sight glass and advanced oil seal technology eliminates the need for a dipstick. With visibility to the oil level and the oil itself, you can easily see when oil levels are low or if water has clouded the oil.
Get the Right Pump for Your Machine: This pump is designed for gas powered pressure washers with horizontal engines. Its SAE bolt pattern, hardware, and standard connections make it a great fit for many brands and models of power washers.