To extend the life of your SIMPSON pressure washer, proper maintenance is a must. This includes winterizing your gas-powered pressure washers pump and engine for the cooler months approaching. Storing your pressure washer inside is simply not enough protection. Winterizing will prevent any residual moisture from freezing, expanding and potentially cracking valves and seals inside your pump. Also, it will protect your engine from any moisture that may reside in stagnant gas, causing your engine to fail.
Today we will show you how to quickly and effectively winterize your pressure washer using two products that we swear by Pump Guard and Ethanol Shield.
SIMPSON ALH3425 3400PSI @ 2.5 GPM Aluminum Series Pressure Washer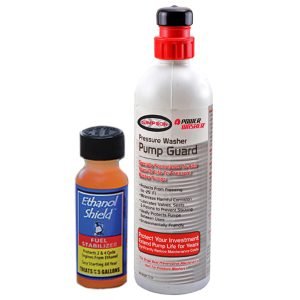 Here we have the SIMPSON ALH3425 gas powered pressure washer that is ready to be stored away for the winter months.
We will start by using Ethanol Shield to stabilize your fuel.
Some people recommend that you drain your fuel to prevent water from leaching into it. This is a good method, but still leaves your pressure washer susceptible to moisture contamination in your tank and carburetor.
We recommend that you LEAVE your tank full and use Ethanol Shield to prevent moisture from leaching into your fuel.
 One bottle (2oz) = good for 5 gallons of gas
Like most SIMPSON pressure washer models, the SIMPSON ALH3425 has a 1/2 gallon tank. You will need to pour 1/2 oz. Ethanol Shield into your tank when the tank is FULL of gas.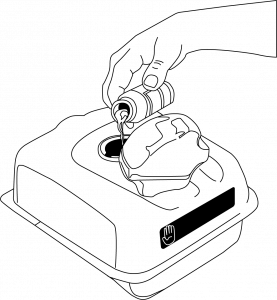 Connect your pressure washer to the water supply and assemble gun and hose.  Be sure that your water supply is ON and pull the recoil. Pull the trigger and let the engine run for 2-5 minutes to allow gas into the carburetor.

Next, if you have used chemicals in your pressure washer, you will want to flush out any residual chemicals from your pump using your siphon tube, using a small bucket and some freshwater.

Attach your siphon tube to your pump and drop the filtered end into the bucket of water. Insert your soap nozzle into your wand and pull the trigger to let the water into the pump and hold for a few seconds to a minute to flush out chemicals.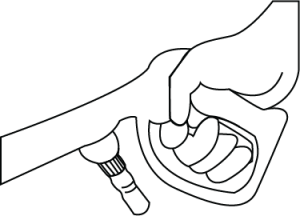 Disconnect gun, the wand, high-pressure hose and garden hose and drain any residual water in the hoses as much as possible to prevent corrosion and oxidation that can lead to gun, wand and hose permanently sticking together.
Now, we will protect the pump by using SIMPSON Pump Guard.
Using Pump Guard will coat your pump to prevent corrosion or other damage that can lead to cracks in your pump due to water expanding when frozen.

Simply remove cap and screw in pump guard to your water inlet and twist until secure. Squeeze Pump Guard bottle until there is 100% solution coming from the pump outlet. If you have trouble simply pull on your recoil a few times to help Pump Guard push through the pump.
Lastly, store your pressure washer in a dry, safe space.
Rest easy knowing your pressure washer is safe all winter long!