Choosing the correct nozzle is critical to a great cleaning job, but also to avoiding damage. Please use the chart below as a guide to match a nozzle to your cleaning requirements.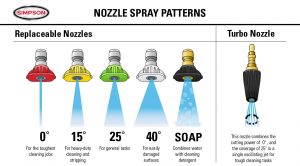 No matter the job or the nozzle used, always start well away from the surface and slowly move toward it. Look for signs of damage and stop immediately if any is noted.
The black nozzle is used for low-pressure rinsing and for soap/detergent application. The detergent will only be injected into the system when using the low-pressure black nozzle.