Choosing the correct nozzle is critical to a great cleaning job, but also to avoiding damage. Please use the chart below as a guide to match a nozzle to your cleaning requirements.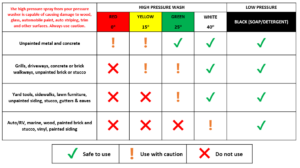 No matter the job or the nozzle used, always start well away from the surface and slowly move toward it. Look for signs of damage and stop immediately if any damage is noted.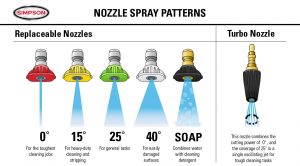 There are up to five different quick connect nozzle spray tips; four high pressure and one low pressure "soap" nozzle. The operator can select a high pressure nozzle spray pattern which best suits the cleaning application. Note: Cleaning solutions cannot be applied with high pressure spray tips (Red, Yellow, Green or White).
RED Nozzle: 0°
Provides a concentrated spot of high pressure water allowing you to be further from the surface being cleaned and to blast off stubborn material. USE CAUTION with this nozzle as the force available will actually penetrate soft materials or surfaces. Use for reaching high areas such as under eaves or cleaning tar, chewing gum, etc. from sidewalks. This nozzle is useful for breaking up large areas of loose paint to strip a surface. This nozzle can assist in moving excess mortar from brick construction and rust flakes from steel.
YELLOW Nozzle: 15°
Provides a narrow fan of concentrated water pressure for removing paint, mildew, etc. By testing several angles between the spray and the surface being worked, the best angle may quickly be identified. The yellow nozzle is also used to remove loose paint from wood, masonry, metal, etc. You will be able to remove heavy oxidation, mildew and marine growth from boats or clean heavy equipment.
GREEN Nozzle: 25°
Provides a wider fan for pressure cleaning and rinsing. Used for removing mildew, light to medium oxidation and dirt from aluminum siding, rinsing stripped areas or general light cleaning in preparation for painting.
WHITE Nozzle: 40°
Provides a wide fan for cleaning and rinsing. This nozzle is used for general wash-down, light cleaning, rinsing off chemicals used in building restoration and sweeping driveways or parking areas.
BLACK Soap Nozzle
A low pressure nozzle used to apply cleaning solutions. Note: Cleaning solutions cannot be applied with high pressure spray tips (Red, Yellow, Green or White)